Vai beach is one of the best known beaches on Crete, famed for being sur­roun­ded by a forest of palm trees — often mar­keted as Europe's last palm forest. The beach itself is on the east coast and is fairly isol­ated from most resorts but it is easy to reach by car and coach trips also run there.

Many pic­tures show a beau­ti­ful sandy beach, how­ever be warned that in peak sea­son it will be covered in beach umbrel­las and will be very busy. There is a large car park but this is not free so make sure to take some change if you drive your­self. Park­ing on the road is free, but you will need to park some dis­tance away as the sides of the road near the beach have been roped off. When I went in Octo­ber no-one was char­ging at the car park so if you go out­side of peak sea­son you should have no problems.
Once at the beach there are facil­it­ies there, with some small out­lets, a lar­ger cafe, and a res­taur­ant that between them serve a range of hot and cold food and drinks. Prices aren't too bad but you are a cap­tive mar­ket so expect to pay "tour­ist prices". Next to the cafe there are steps up to a view­ing point which is where the 2 pic­tures above were taken from. There is also a path from the view­ing point that leads to a second 'nud­ist' beach a couple of hun­dred metres to the south.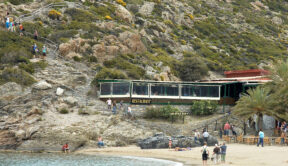 In peak sea­son there are also water sports facil­it­ies for thrill­seekers, although many beaches offer these so it isn't worth trav­el­ling a long way just for these. The water is beau­ti­fully clear as is vis­ible in both pho­tos above, and the sand is finer than on many beaches in Crete which does make it appear more like a para­dise beach than many. The trees provide shade to the rear of the beach, and if you want shade near the water you can opt to pay for an umbrella, or if you have room in your suit­case you could take a pop-up tent (there are many options — e.g. this one from amazon). In sum­mer months the sand on the beach will get uncom­fort­ably hot between 11am and 5pm so take some suit­able footwear.
As men­tioned above there is actu­ally more than 1 beach near Vai, but only the main beach is imme­di­ately access­ible from the road. The second beach is a nud­ist beach called Psili Ammos Beach. To reach Psili Ammos you need to walk around 500m , start­ing by climb­ing the steps to the view­ing point above the cafe/restaurant. The path con­tin­ues south along the top and slopes down at the far end. Psili Ammos is much quieter and so far is unspoiled. You can see a 3D view of the path in a photo on google maps and also pho­tos of the steps up and path in the gal­lery below.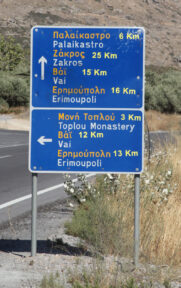 If you decide to drive to Vai your­self beware the con­fus­ing road signs! There is an old road and a new road to Vai and the signs have both roads shown as going to Vai! The older road is short­er and more scen­ic but slower so if you're explor­ing this is the route to take, but if you have kids in the back and just want to get to the beach with the min­im­um of twists and turns the new road is the bet­ter option. Both take about the same amount of time.
The jour­ney to Vai takes around 30 mins from Sitea, 1 hour from Makrys-Gia­los or Xer­okam­pos, and around 90–100 minutes from Iera­petra or Agios Nikolaos. The roads aren't too busy even in peak sea­son and are of good qual­ity, but some routes can have a lot of twists and turns at times.
A trip to Vai can be com­bined with a vis­it to Toplou mon­as­tery, Sitea, or the beaches at Itanos. If you are trav­el­ling from the south coast a vis­it could be com­bined with a vis­it to Xer­okam­pos or Zak­ros on the south-east, and there is a Vene­tian Villa at Etia. If you are trav­el­ling from the north coast Richt­is Gorge is anoth­er pos­sible stop off although Richt­is gorge demands at least half a day itself. Doing any of these addi­tion­al vis­its will make the trip into a full-day event.
Gallery of Via beach
Map of Vai Beach
More Information
For more inform­a­tion and opin­ions, we recom­mend look­ing at the Vai beach page on Trip Advisor